Have your days been interrupted by headaches that you can't seem to quit getting? If so, it may be due to your eyes needing a new prescription. It's easy to forget how much we depend on our vision. If the signs on the road have become unclear, or the writing on a whiteboard at the front of a classroom starts to look like unintentional hieroglyphics, it's time to see the eye doctor. At Nicholas Leone, M.D., P.C., we make your vision our mission. Call us today to schedule a visit.
See Clearer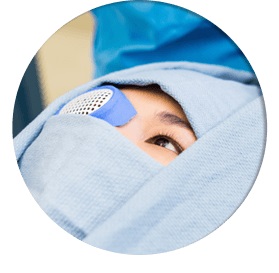 Whether you are nearsighted or farsighted, our professionals are prepared to help you see clearer than you ever have. You will walk into your first appointment with blurry sight, but when you pick up your new prescription, you will notice details and shadows that you've never seen. Let Nicholas Leone, M.D., P.C. help you see the clear, wonderful world that Louis Armstrong sings about. Reach out to us today. Our staff is ready to help you.
Feel Better
If you are a student, a full-time employee staring at a computer, or a hobbyist, straining your eyes can lead to unpleasant feelings like headaches and eye soreness. It can be easy to get used to the symptoms and ignore them, but it's more important for you to come to get an eye checkup at the first sign of something being off. There is a chance that it could be something more serious that is easier to catch at the beginning. We can help.
We Will Help You Focus
Blurry vision can make reading, computer work, or detailed crafting very difficult. If you find it difficult to focus on the important elements in your life, come in for an eye examination. We will help you gain your focus back and we ensure that you will feel better about your projects. Let us help. Call us today and we will get you on the road to a clearer vision and happier life.